These are from the syllabus of Dr. Aaron Pincus' Penn State seminar,
Madness in the First Person
(Fall 2009):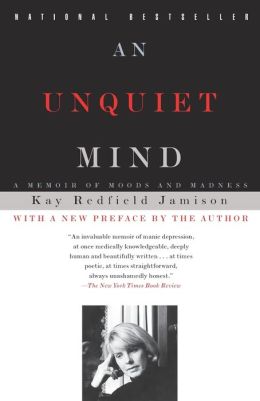 1.
An Unquiet Mind: A Memoir of Moods and Madness
, Kay Redfield Jamison. Bipolar disorder (manic-depressive illness).
2.
Drinking: A Love Story
, Caroline Knapp. Alcoholism.
3.
Wasted: A Memoir of Anorexia and Bulimia
, Marya Hornbacher. Eating disorders.
4.
First Person Plural: My Life as a Multiple
, Cameron West. Dissociative Identity Disorder.
5.
The Quiet Room: A Journey out of the Torment of Madness
, Lori Schiller & Amanda Bennett. Schizophrenia.
6. Students in the seminar also read
Am I Okay?: A Layman's Guide to the Psychiatrist's Bible
by Allan Frances and Michael First.
I've only read the first book on the list, but I would gladly read any of these over any weekend.