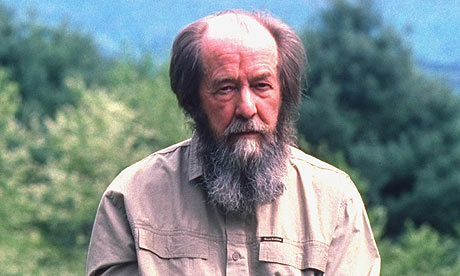 WSJ
From Alexandr Solzhenitsyn's 1970 Nobel lecture, accepting the prize in literature:
The spirit of Munich has by no means retreated into the past; it was not merely a brief episode. I even venture to say that the spirit of Munich prevails in the 20th century. The timid civilized world has found nothing with which to oppose the onslaught of a sudden revival of barefaced barbarity, other than concessions and smiles. The spirit of Munich is a sickness of the will of successful people, it is the daily condition of those who have given themselves up to the thirst after prosperity at any price, to material well-being as the chief goal of earthly existence. Such people—and there are many in today's world—elect passivity and retreat, just so as their accustomed life might drag on a bit longer, just so as not to step over the threshold of hardship today—and tomorrow, you'll see, it will all be all right. (But it will never be all right! The price of cowardice will only be evil; we shall reap courage and victory only when we dare to make sacrifices.)
A decline in courage may be the most striking feature which an outside observer notices in the West in our days. The Western world has lost its civil courage, both as a whole and separately, in each country, each government, each political party, and, of course, in the United Nations. Such a decline in courage is particularly noticeable among the ruling groups and the intellectual elite, causing an impression of loss of courage by the entire society. Of course, there are many courageous individuals, but they have no determining influence on public life.
Political and intellectual bureaucrats show depression, passivity, and perplexity in their actions and in their statements, and even more so in theoretical reflections to explain how realistic, reasonable, as well as intellectually and even morally worn it is to base state policies on weakness and cowardice. And decline in courage is ironically emphasized by occasional explosions of anger and inflexibility on the part of the same bureaucrats when dealing with weak governments and with countries not supported by anyone, or with currents which cannot offer any resistance. But they get tongue-tied and paralyzed when they deal with powerful governments and threatening forces, with aggressors and international terrorists.
Should one point out that from ancient times declining courage has been considered the beginning of the end?
When the modern Western states were created, the principle was proclaimed that governments are meant to serve man and man lives to be free and to pursue happiness. See, for example, the American Declaration of Independence. Now, at last, during past decades technical and social progress has permitted the realization of such aspirations: the welfare state.
Every citizen has been granted the desired freedom and material goods in such quantity and of such quality as to guarantee in theory the achievement of happiness -- in the morally inferior sense of the word which has come into being during those same decades. In the process, however, one psychological detail has been overlooked: the constant desire to have still more things and a still better life and the struggle to attain them imprint many Western faces with worry and even depression, though it is customary to conceal such feelings. Active and tense competition fills all human thoughts without opening a way to free spiritual development.
The individual's independence from many types of state pressure has been guaranteed. The majority of people have been granted well-being to an extent their fathers and grandfathers could not even dream about. It has become possible to raise young people according to these ideals, leaving them to physical splendor, happiness, possession of material goods, money, and leisure, to an almost unlimited freedom of enjoyment. So who should now renounce all this? Why? And for what should one risk one's precious life in defense of common values and particularly in such nebulous cases when the security of one's nation must be defended in a distant country? Even biology knows that habitual, extreme safety and well-being are not advantageous for a living organism. Today, well-being in the life of Western society has begun to reveal its pernicious mask.