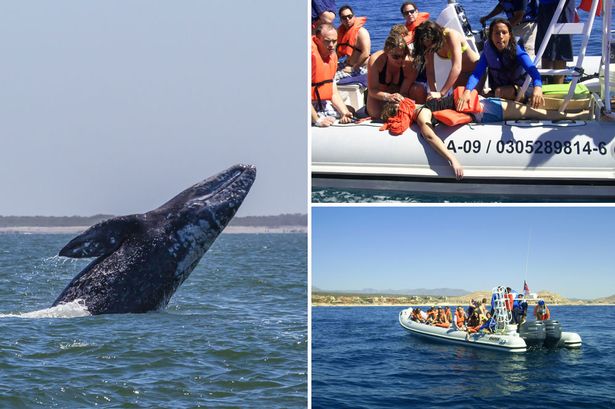 Guardian
"A Canadian woman died from injuries sustained when a grey whale crashed into a tourist boat as it returned from a short excursion out of the resort city of Cabo San Lucas in

Mexico

.
Two other passengers were injured in the accident, which took place close to the beach around 11am on Wednesday, according to a statement released by tour company Cabo Adventures.
"The captain had to make a movement to avoid a whale that surfaced just in front of the boat," the statement said. "The whale hit one side of the boat, leaving two people injured and another passenger hurt who, unfortunately, later died in hospital."
Port director Vicente Martínez said the woman was 45 years old. Some reports said she was 10 years younger. The collision happened on the Pacific coast side of the Baja California Peninsula. One reported version said the whale jumped out of the water and landed on the boat filled with 24 people, including the crew.
The confusingly worded statement from the tour company appeared to suggest that the victim fell into the water during the collision. Once she was pulled back into the boat, it said, she immediately received mouth to mouth resuscitation from another tourist who happened to be a qualified nurse before naval rescue paramedics arrived and took her to the hospital."