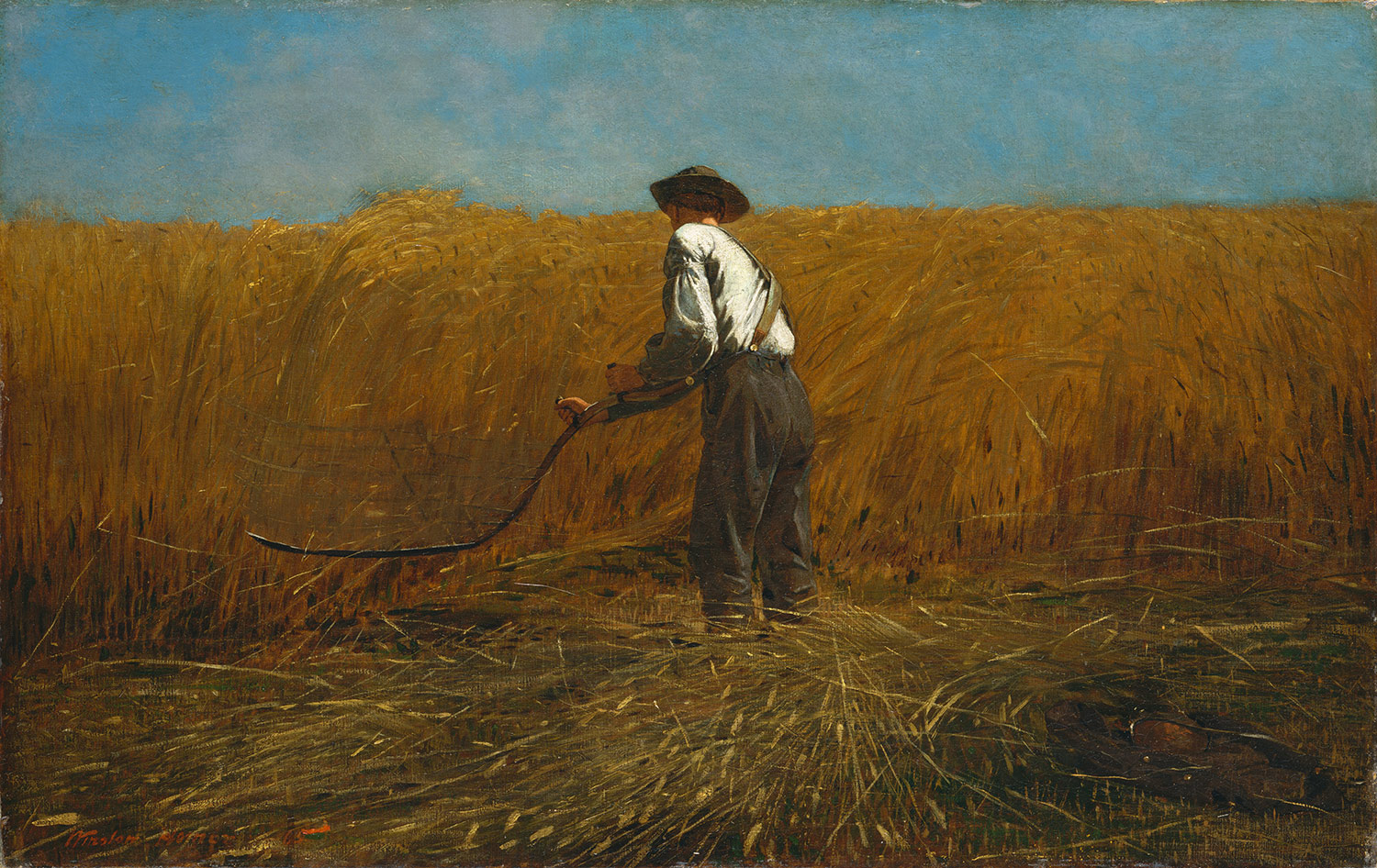 The Veteran in a New Field -- Winslow Homer (1865)
WSJ
Were I to be appointed Secretary of Education, I'd issue a prospectus for a compulsory nation-wide high-school course called "The American Experience in Art." Every student who took this year-long course would be required to read, view and listen to the following American masterpieces while simultaneously studying the aspects of U.S. history that they illustrate and illuminate:
• Two full-length novels, Willa Cather's "O Pioneers!" and Robert Penn Warren's "All the King's Men";
• One short novel, F. Scott Fitzgerald's "The Great Gatsby";
• Two plays, Thornton Wilder's "

Our Town

" and Tennessee Williams's "The Glass Menagerie";
• A selection of poems by

Emily Dickinson

,

Robert Frost

and

Langston Hughes

;
• One group of paintings, Jacob Lawrence's "

Migration Series

," studied in conjunction with a selection of recordings by Louis Armstrong and Duke Ellington;
• One dance, Martha Graham's "Appalachian Spring" (music by Aaron Copland);
• One musical, Leonard Bernstein's "

West Side Story

" (choreography by Jerome Robbins, lyrics by Stephen Sondheim);
• Three films, John Ford's "

The Searchers

," Orson Welles's "

Citizen Kane

" (music by Bernard Herrmann) and William Wyler's "

The Best Years of Our Lives

."
The main objective of this class would be to expose American students to a widely varied assortment of American masterpieces, none of them contemporary and none of which they would nowadays be likely to encounter outside of school. (Yes, even "Citizen Kane.") But what makes "The American Experience in Art" even more valuable is that it situates these masterpieces in the larger context of U.S. history.
You don't have to know anything about the Shakers to appreciate Mr. Copland's score for "Appalachian Spring" any more than you have to know who William Randolph Hearst was to understand "Citizen Kane." But one of the most effective ways to bring great art alive to those for whom it is terra incognita is to explain how it relates to the world they know. If I wanted to open a student's ears to prewar jazz, I'd start by talking about how Louis Armstrong, like hundreds of thousands of African-Americans, migrated from the Deep South to one of the major Northern cities between the world wars—and I'd play his 1928 record of "West End Blues" after first having used the "Migration Series" paintings to dramatize what it meant for a black sharecropper to turn his back on the past and move to Chicago or Los Angeles or New York.
That's the point of my course. It uses art to illuminate history—and vice versa. How better to hammer home the realities of war than to watch "The Best Years of Our Lives," one of whose characters is played by an actual World War II veteran whose hands were blown off? Or to explore the grubby intricacies of politics by reading "All the King's Men," with its fictionalized portrait of Huey Long?
None of the works on this list are fearsomely complex or intrinsically controversial. All should be familiar to every culturally literate American. All are well within the reach of ordinary high-school students. All could be adequately discussed in a well-written textbook. All could be studied in a year's time. Any takers?
Sounds like a great course. I balk at the "compulsory" and "nation-wide" aspects though. And who's going to teach it? In most school districts it would probably be the baseball coach. (How much improved would American education be if you had to get at least 1200 on your SATs in order to be licensed as a high school teacher?)
I might substitute the paintings of Winslow Homer for the Migration Series. And nothing against Louis Armstrong, but I prefer Ella Fitzgerald. And they should read Ernest Hemingway's short stories (especially
In Our Time
). I can't complain about the film selections, or the musical. I appreciate his leaving out Walt Whitman.
By the way, if you aren't familiar with these works, it won't be too difficult to become familiar with them. At least now you have the list to work from. Or, you could continue plodding along in your cultural ignorance, a choice that seems both boorish and unpatriotic.
The Fox Hunt -- Winslow Homer (1893)