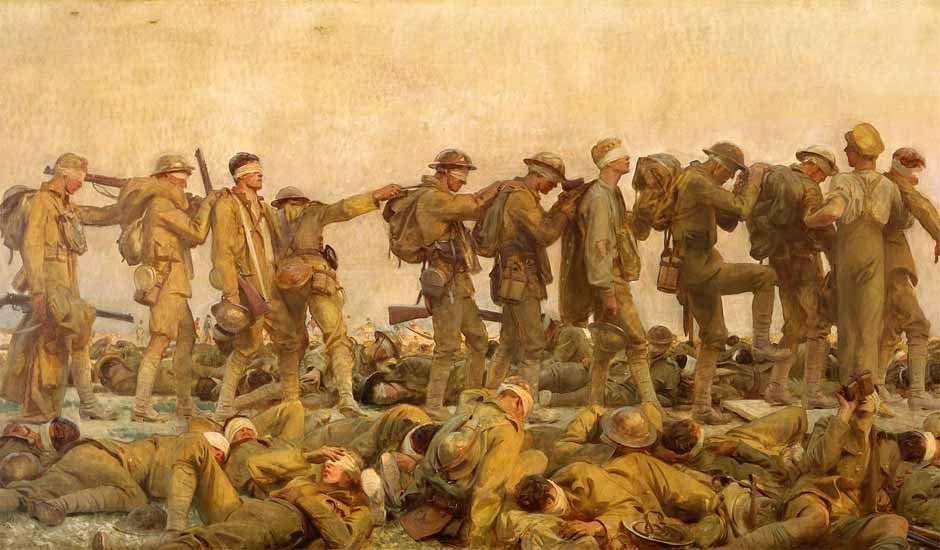 Gassed, John Singer Sargent (1919)
And now for the Great War, with a classic of military history, a phenomenal biography of Winston Churchill, two great novels, and, wait for it, a hybrid work of literary criticism and military history.
11.
The Face of Battle
, John Keegan
"In his scrupulous reassessment of three battles representative of three different time periods, [Keegan] manages to convey what the experience of combat meant for the participants, whether they were facing the arrow cloud at the battle of Agincourt, the musket balls at Waterloo, or the steel rain of the Somme." A classic of military history, on this segment of the list obviously for it's coverage of what it was like to fight at the Somme. Another classic on trench warfare is John Ellis's
Eye Deep in Hell
.
12.
Once an Eagle
, Anton Myrer
"Required reading for West Point and Marine Corps cadets,
Once An Eagle
is the story of one special man, a soldier named Sam Damon, and his adversary over a lifetime, fellow officer Courtney Massengale. Damon is a professional who puts duty, honor, and the men he commands above self-interest. Massengale, however, brilliantly advances by making the right connections behind the lines and in Washington's corridors of power." This novel is perhaps best at capturing the lean times for U.S. Army officers during the years between The Great War and the Second World War. But the best combat scenes take place during WWI in France.
13.
All Quiet on the Western Front
, Erich Maria Remarque
Here's another book that they wanted you to read in high school (just like
The Red Badge of Courage
), and which you should have. Even if you did read it then, read it again now -- maybe you'll actually appreciate it this time. Don't be fooled by the "antiwar" label often attached to this book. It's perceived as antiwar only because it presents war realistically, complete with its waste, randomness, and cruelty.
14.
The Last Lion: Winston Spencer Churchill: Visions of Glory (1874-1932)
, William Manchester
I had to sneak this one onto the list somewhere, and the Great War segment fits the bill well enough. This is perhaps the most thrilling biography of Winston Churchill and his times, from his days as a cavalry officer at the last cavalry charge in history to his service as First Lord of the Admiralty during the Great War. The preface, which sets Winston Churchill within his time and social class, is one of the best things I have ever read. After this, you would like Manchester's
American Caesar
, his biography of General Douglas MacArthur.
15.
The Great War and Modern Memory
, Paul Fussell
One of my all time favorite books -- you will definitely feel smarter after reading it. And you will understand World War I -- and World War I poetry -- better than you ever had. Fussell was an English literature professor but he was also a WWII combat infantryman, so when he writes about the experiences of the poets, authors, and memoirists of the Great War, he brings a perspective that no one else could. And yes, you should also read an
anthology of WWI British poetry
[it costs less that $3.00! Buy it!] as well as Robert Graves'
Good-bye to All That
, which is featured prominently in Fussell's book.