75 Books Every Man Should Read
" on its website. I have excerpted from that list the books that you
really should read
, as soon as possible. I think that every undergraduate (and particularly male undergraduates) would enjoy/benefit from reading these books. Let me put it this way -- if you don't take pleasure in reading any one of the following books, there's something lacking in you.
I'm serious about that last comment, by the way. Somehow people have been led to believe that their subjective response to a literary work is all that matters, and that if they do not like a book, well, that means that there is something wrong with that book. This is not so. If you read and do not appreciate a book from this list, then there is probably something wrong with
you
. I suggest that you seriously contemplate the defects in your intellect and/or character revealed by your reaction.
These aren't in any particular order -- for my personal favorites, start the list from the bottom up.
1.
Deliverance
,
James Dickey
2.
The Things They Carried
, Tim O'Brien
3.
Hell's Angels
, Hunter S. Thompson
4.
All the King's Men
, Robert Penn Warren
5.
The Postman Always Rings Twice
, James M. Cain
6.
The Killer Angels
, Michael Shaara
7.
Slaughterhouse Five
, Kurt Vonnegut
8.
One Flew Over the Cuckoo's Nest
, Ken Kesey
9.
This Boy's Life
, Tobias Wolfe
10.
Heart of Darkness
, Joseph Conrad
11.
The Spy Who Came in from the Cold
, John le Carre
12.
The Right Stuff
, Tom Wolfe
13.
American Tabloid
, James Ellroy
14.
Lonesome Dove
, Larry McMurtry
Advanced
1.
Dubliners
, James Joyce
2.
The Brothers Karamazov
, Dostoevsky
3. War and Peace, Leo Tolstoy
4. Winesburg, Ohio, Sherwood Anderson
5. Moby Dick, Herman Melville
6. Lolita, Vladimir Nabokov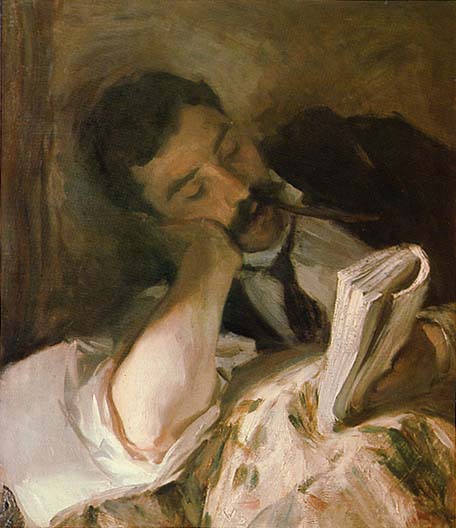 Man Reading, John Singer Sargent